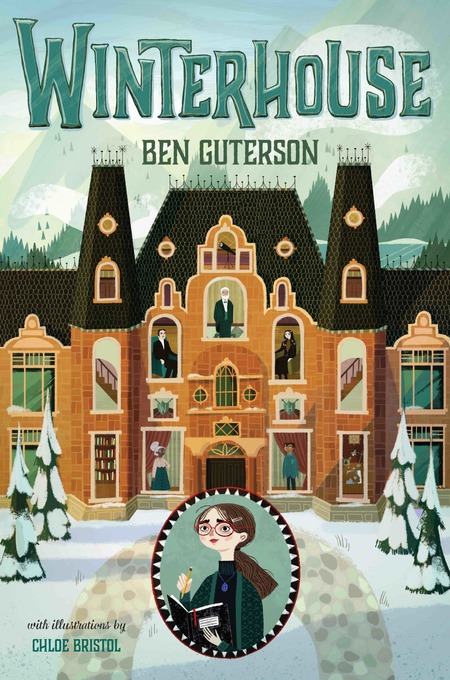 In a reading rut? This mistreated orphan tale with a bit of magic will be the perfect buffer to help propel you into your next read, no matter your age.
Characters like good ole best friend and hotel smarty, Freddy, and the magical hotel owner, Norbridge, and the cutest librarian, Leona, round out this magical tale and teach Elizabeth to be a better friend, groom her curious mind, embrace the best pieces of herself. Naturally, conflict arises in the form of two mysterious guests with creepy eyes and an even creepier carry on luggage.
Added bonus: illustrations by Chloe Bristol bring elements of magic to life throughout the whole story.
Ben Guterson wrote a magical story filled with hope, mending friendships, book affection, word play, and, most wonderfully, celebrates curiosity. A great read for any age, but specifically written for your favorite middle schooler. You'll learn to trust your gut in book one of the Winterhouse series, while learning who you can trust. Filled with quirky characters in an ostentatious setting during Christmas--though it felt more like Halloween than Christmas to me (perfect book to accompany any of those holidays).
Elizabeth Somers stars as the protagonist of this mistreated, isolated orphan trope story. She lives a less than ordinary life in a boring town, when suddenly she's offered a free trip and stay at the curious Winterhouse Hotel during the Christmas break. Elizabeth explores this hotel that celebrates the cheerful charms of life.
I thoroughly enjoyed Elizabeth's hunt for the answer to her puzzle, battling a pair of classic mystery novel baddies and learning to control her emotions. Winterhouse is the first book in a series of three. Would be a fun one to read along with your kiddos.
Wishing your book-bag full of goodies,
~JH