We've moved! And I wanted to share a glimpse at our moving process, including QR codes, Airtable, boxes, and how we get from point A to B.
I hope you find it helpful. Bryan is a very organized person and this process is top notch for us. It's a bit tedious, but oh man it makes moving day and unpacking seamless and smooth.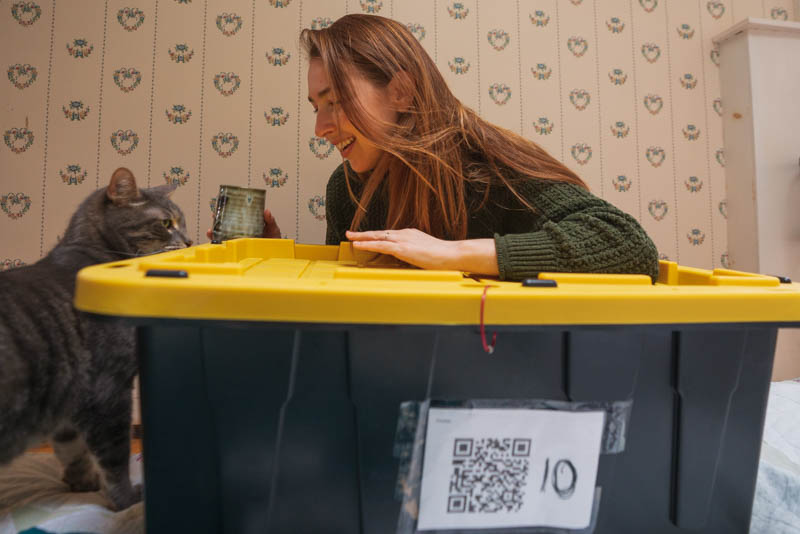 So 👏 much 👏 stuff — we try to declutter often and keep our consuming and Amazon One-Click binging to a minimum, yet, here we are, on a chilly Saturday evening, stuffing over 40 boxes of stuff into the back of the pickup.
Oh, but if I'm being honest, this stuff is so much more than stuff. It is precious to me. After all, it's the accumulation of 5 years of our (seriously fun) marriage. We have 6 boxes of books, 4 boxes of sweet family photos that really need to be scanned (like now). We really love kitchen gadgets and letters from friends and family.
To keep track of all our precious stuff in their designated boxes, we use Airtable and QR codes.
In case you haven't heard of Airtable, let me introduce you: essentially, Airtable is a beautifully templated spreadsheet. We inventory all the things and then assign each thing to a room and box.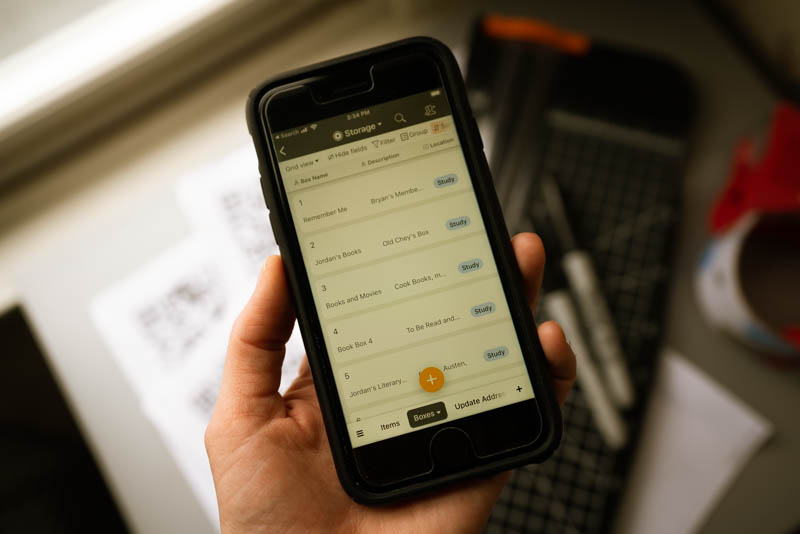 Step One:
We begin with naming each thing. At the start, I was very particular about our things: "Let's Do This" pencil, "You're Amazing" … "You're Pointed in the Right Direction" pencil quickly turned into a single line item named "Motivating Pencil Set of 12". Oh, so laughable. When I say quickly, I mean like literally the next set of items. I'm not that patient.
It was much easier for our books. Our home library (ya know, those 6 boxes) are all noted and inventoried in Airtable, which is something I've wanted to do for ages but really never got around to doing. Well, now I have an organized list of all the books we own (sooo happy).
Also:
Question: is it necessary to have 3 copies of Peter Pan??
Answer: absolutely.
Step Two:
Once we've properly named the item, we then assign it to a room. We have 5 rooms. Yeah, we certainly aren't living at Downton Abbey.
Living Room (to include Laundry + additional linen)
Study
Bedroom (to include Wardrobe/closet)
Bathroom
Kitchen
For example, our "Motivating Pencil Set of 12" given to me by my Aunt Cindy for Christmas belongs in the Study with the rest of the artwork-y things. This is to help keep all our boxes organized—not just the things.
Step Three:
And then we assign the actual box. We stuck with numbers. 1 – 48 (and counting) and a generic name (Utensils, Artwork, Movies). We also assign each box with a QR code; this gives each box a unique identity. Here is the magic of it all. This allows us to scan the QR code with the Airtable app and know exactly what is hidden in that box (without having to dig through the heavily packed box). This is what sold me on adding this extra step to what is already a tedious moving process. Haha I didn't need much convincing — I've spent one too many times searching through vaguely labeled boxes to only find the thing I wanted in the box on the bottom. Not anymore. I seriously love this process.
---
While working at summer camp (hey, Camp Zephyr!) I accumulated a lot of little bits and bobs and souvenirs. And when summer came to that heartbreaking, inevitable end, I'd throw all my things in the back of my car, the trunk, and sometimes when I dared, on the top of the car strapped with yarn (Goodness, I was a danger to society).
These days, moving takes more than a late summer afternoon. As that hour has stretched into one week or two, it's important for Bry and me to stay organized--together. And I'm proud to say that we found a system that seriously works for our little family.
I hope this inspires you or maybe even helps you figure out your new moving process.
---
If you're a Happy Mail kind of pal, I'd love to hear from you. I hope you're doing well, friend!
Here's our new mailing address :)
JH Brattlof

PO Box 836

Sterling, MA 01564