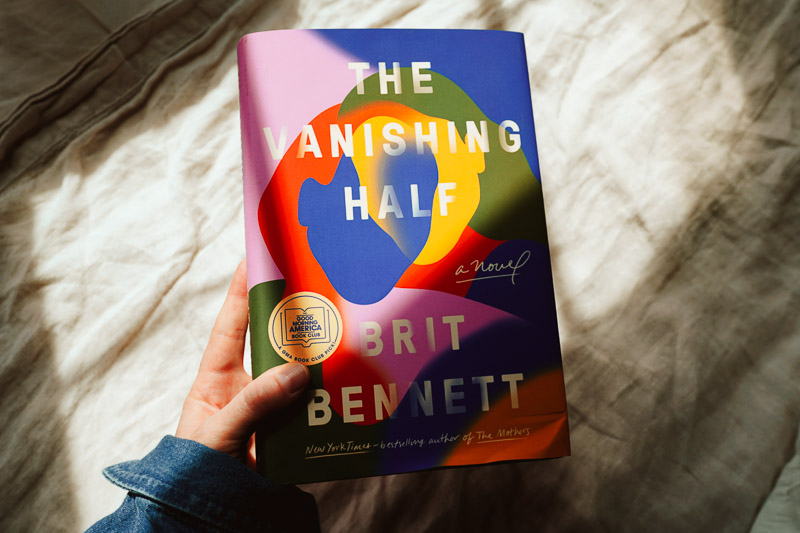 There's something missing in my personal library. A voice that I haven't paid enough attention to.
This book arrived yesterday afternoon just as we arrived home from our walk. We walk in the rain now. Hiding underneath our rain jackets, we are completely safe and barely even wet. But still, we are learning to adapt and find some semblance of joy in what the season brings us.
I've heard good things about The Vanishing Half by Brit Bennett. And the bright, colorful cover tells me it's important and begs me to read it. And I shall listen.
I began Bennett's historical retelling immediately after finishing Christie Purifoy's Placemaker. What a timely read, and not just because of the recent news coverage and a certain unveiling in our society. But timely because that last chapter in Placemaker calls to action peace and wholeness and completeness. The Vanishing Half, as suggested by the title (but also the entirety of the book), discusses an emptiness, a loneliness, a void stirring tirelessly yet aims to heal, be filled, and find true peace.
I mentioned earlier that this colorful cover, bright and artistic designed by Lauren Peters-Collaer, begs me to read what's inside, to hear this story, to pay attention and listen. And that is exactly how I'd sum up the writing style, too.
This is my first Brit Bennett read, so I wasn't familiar with her style of storytelling. At the start, I was reminded of Where the Crawdads Sing by Delia Owens, but I think because both books take place in the south, in the mid-century American south. And also both authors illustrate these histories with unique, specific details familiar to our own modern world, something tangible and familiar.
"She didn't hate Mallard as much as she felt trapped by its smallness. She'd trampled the same dirt roads her entire life; she carved her initials on the bottom of school desks that her mother had once used, and that her children would someday, feeling her jagged scratching with their fingers."
The story of twin sisters, Desiree and Stella Vignes, who disappear from their hometown in Mallard, Louisiana (shame-less plug about Lousiana:To the Man in the Checkered Hat), starts in late summer of 1954. By the end, readers are immersed in the late 1980s, reminded of those wild and free hairstyles, overly expressive soap operas, and nonchalant philosophies about life. Of course, there is nothing nonchalant about this book and the stories that unfold through multiple generations, starting with Adele Vignes, the twins' mother.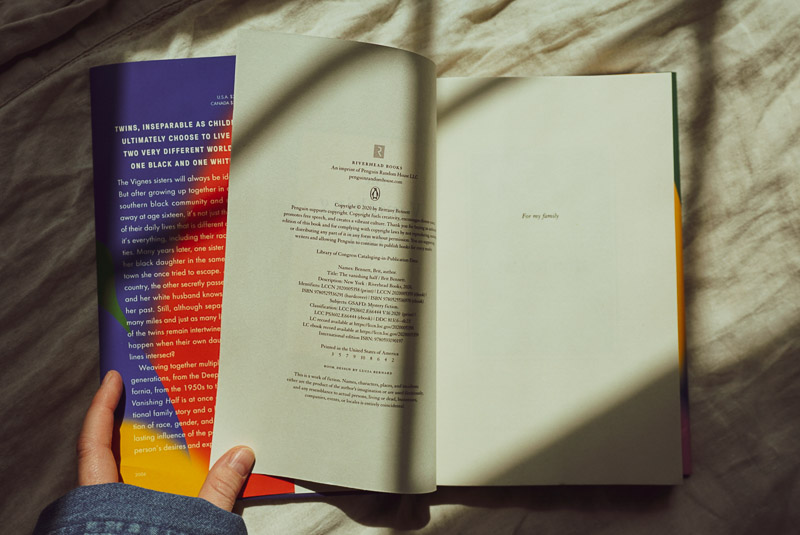 The Vanishing Half is a sad book. There is violence; there is neglect; there is racism, and abuse. And none of it is easy to read. But it is important, for me anyway, to see and hear those experiences.
People of Mallard, a black community that has spent generations breeding their children to be lighter skinned, are desperate to blend in and careful to not bring attention to themselves. For when they do, the horrific nightmares of their ancestors, their parents, their grandparents come true. But actually, we learn that these nightmares come true anyway, no matter how careful we are.
Bennett's characters learn that there is safety in white, but also there is a deep tragedy in comforming to societal's gruesome, unforgiving standards, as this person suddenly disappears, vanishes. It's a deep tragedy that society told a group of people that they must hide the pieces that they, the majority, deemed unacceptable, unlovable.
The 1960s in America were not gentle. Change is meant to be uncomfortable, and it certainly was brutally uncomfortable. But what came out of that generation was hope and perpetual change. In the end, this book finds compassion and hope for its characters that experienced so much suffering.
The pain these characters experienced all could have been easily avoided if we, as a society, simply chose to love others for who they are, who they wish to be. My favorite piece of this book is the grand theme of perseverence, declaring themselves valuable enough to be known, truly known. Even though the book was dripping with pain, she told a story that reminds me that human beings despite their circumstances still search for the good and the joy in the little bitty things, and courageously persevere.
---
Perhaps you're like me and looking for some insight into a new perspective or just enjoy reading about the conflicts hidden within Mid Century America, either way, this one is for you. I do hesitate to offer this to everyone, as the content is highly abusive. So if you are sensitive to that kind of material, be cautious.
Otherwise, Thank you for reading. Please don't hesitate to reach out. I hope you are doing well and enjoying your summer.