Introducing Inspector Gamache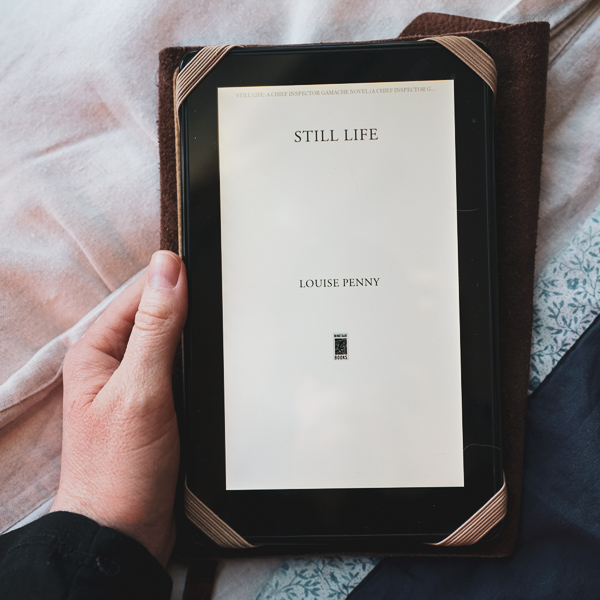 Last spring, Bryan and I jumped off the St. Charles Streetcar in New Orleans and met with some visiting friends at Cafe Du Monde, because really that's the first thing anyone wants to do in NOLA, get up close and personal with the warm, sugary, fried beignet. And Bry and I are always happy to accommodate.
We sat underneath that green and white striped canopy with jazz humming in the background, and a small, too often distant, breeze trickling through the crowd. Abigail, a dear friend, and her lovely adventure pal, G, patiently waited for their first beignet. We talked about the places they'd like to visit while in New Orleans. And then we talked about Memphis, Nashville, and those gorgeous, hypnotic smoky mountains. We talked about Abigail's dream of traveling Europe, which by the way, she eventually did--in the most epic way. After a stint in Israel advocating for peace, (guys--she's so wonderful) she spent three months traveling all over Europe, from cliff gazing in Ireland, to drinking espresso in Italy, to learning how to make falafel in someone's German parent's kitchen.
It didn't take long to learn that G was a kind person. She paid attention to the words Bryan said, discussing difficult concepts that make my head spin. She asked questions that most people didn't ask. She looked people in the eye when they spoke to her. She laughed at my lame jokes. And when we arrived back to the streetcar, powdered sugar all over our clothes, she gave up her seat for someone else, a stranger.
"I can't wait to get back to the room. I have Three Pines to get back to," G said as she leaned over to get a better glimpse at the large oak trees lining St. Charles Avenue.
"What does that mean?" I asked, swaying, or rather lurching, with the ebb and flow, or rather jerk and jive, of the streetcar.
"Oh, it's a book I'm reading about a Canadian inspector--
--Jordan! You'd love it." Abigail said, popping her head over her shoulder, holding on tightly to the little metal loop on the sliding chairs.
"What's it called? Three Pines?"
"Uh, no actually," G said. "So, it's a series, and they take place, well usually, in Three Pines. Louise Penny is the author."
Flash forward one year, Bry and I are now hiding underneath rain jackets in New England, and I secretly still wear wool socks tucked underneath my jeans. One April afternoon, I made a fresh cup of coffee (which I regretted later that night) to combat this sneaky cold weather. It had snowed again, and I was longing for New Orleans. Scrolling through an old journal from last Spring, I found my jotted, messy note Louise Penny, 3 Pines, with a rather long bumpy P, as the streetcar, I'm certain, came to a screeching halt.
Well, Abigail, you were right. I did love it. And thank you, G, for introducing me to this charming series; I'm soooo hooked.
---
Okay, yes, so let's dive in, shall we?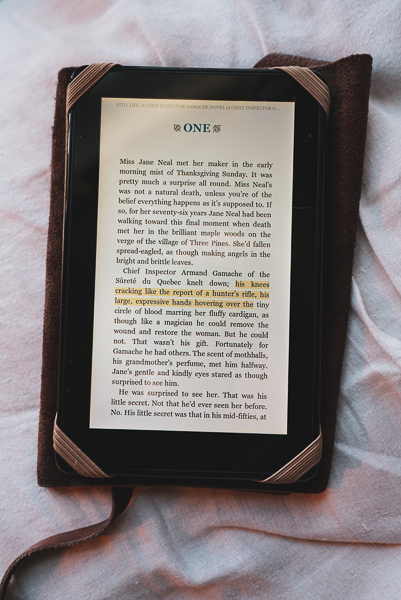 Let me, first, introduce you to Louise Penny's lead of this murder mystery series, a fine gentleman, the Chief Inspector Armand Gamache. He carries the 16 book series brilliantly, full of wisdom and compassion. He's an expert in his field, highly respected, enjoys a nice cafe au lait, and always catches the murderer (or does he?).
In book one, Still Life, readers are welcomed into the story, inspired by autumn leaves and crisp morning walks during Thanksgiving week (I do believe this is the Canadian Thanksgiving, which occurs on the second Monday in October, not like the American holiday in late Movember).
Our Chief Inspector, Armand Gamache, is always surprised by the violence of murder. Though he's been in homicide for a few decades, he's not jaded or numb by death, especially violent ones. "Gamache always hoped maybe someone had gotten it wrong, and there was no dead body."
Miss Jane Neal of Three Pines is our unfortunate victim. Louise Penny introduces us to this quaint town and her quirky band of characters, grieving its loss of a wonderful, secretly artistic, woman. Penny unveils the mysteries and dark histories of this idyllic, quaint town, opening the doors of neighbors and friends and pew sharers and book shops and food shops.
"Three Pines wasn't on any tourist map, being too far off any main or even secondary road. Like Narnia, it was generally found unexpectedly and with a degree of surprise that such an elderly village should have been hiding in this valley all along. Anyone fortunate enough to find it once usually found their way back. And Thanksgiving, in early October, was the perfect time. The weather was usually crisp and clear, the summer scents of old garden roses and phlox were replaced by musky autumn leaves, woodsmoke and roast turkey."
Readers are quickly introduced to a tension between the French and the English Quebec, which I found educating, plus compassionately written. Though I should add, this was my first introduction to the friction in East Canada, so I don't know much about it, but I do look forward to learning more about the francophone and the anglophone dynamic in Canada.
I'd like you to know that this story is cozy. It's an easy read. It's filled with people you know; they may have different hobbies and names and accents, but they're the same people that you invite to your Sunday (vegan) BBQ, tell secrets to, and stand next to while tossing bird seed at your dear friend's wedding.
In short:
As far as the mystery part goes, it's sweetly predictable--well, Penny did have me at the end second guessing myself.
As far as the murder part goes, this story is less about that and more about life and grief.
A disclaimer: moments of profanity.
I do hope you get to enjoy this series, whether it's Spring or autumn or Christmas.