He kidnaps her. Like actually kidnaps her.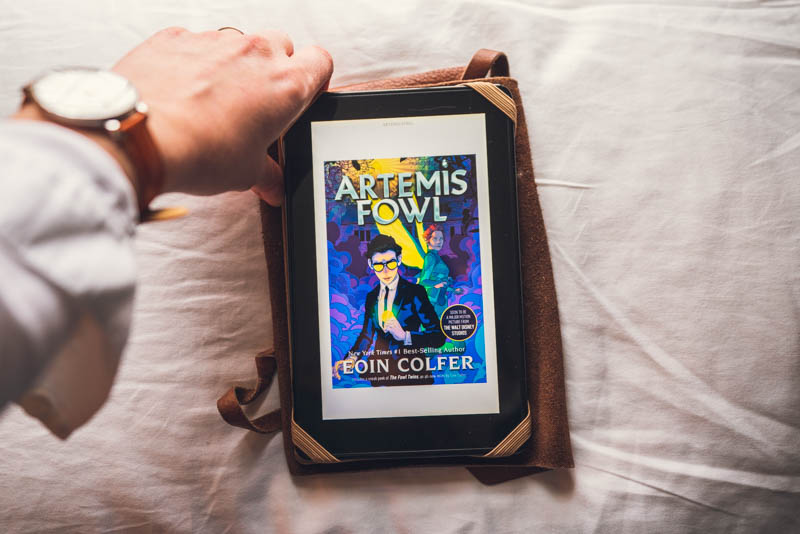 The Stars for Buttons Book Club voted on Artemis Fowl by Eoin Colfer as our February read. The fun adventure of this Irish tale was a welcomed, stark contrast to January's emotionally heavy (yet so lovely) read, Wolf Hollow.
We switched it up with a male protagonist, and even starred an anti-hero for this middle school sci-fi narrative, full of twists, turns, magic, and fighting fairies.
Anti-hero is the key word there. If you are typically the kind of person who empathizes with villains and roots for the baddies to win, well, this is your kind of tale. I must admit that when a villain is written with just enough heartbreaking backstory, I'm rooting for (at the least) their redemption:
Darth Vader, in Star Wars
Professor Snape, in the Harry Potter Series
Heathcliff, in Wuthering Heights
Dare I say, Moriarty, in Sherlock Holmes
I've yet to read a middle grade novel that stars an anti-hero (that is not to say they don't exist—hmm like fairies?), and I can certainly appreciate the value in this rare representation. Not every middle school-er makes great choices, or even feels guilty about making terrible choices. Some middle school-ers enjoy the playfulness of finding boundaries and exploiting them—and I'll argue that this isn't necessarily a bad behavior. We ought to encourage learning, exploring, and finding their place. That, however, is not Artemis Fowl. Artemis Fowl, the 12 year old genius, follows no rules, has no respect for boundaries (ahem, time stop), and in fact, delights in loop holes. He is clever enough to frustrate adults and even aggravate the ancient, hidden, kind of scary civilization of the fairy world.
Readers quickly learn Artemis experiences a great loss, a loss of his father and the sanity of his mother. He is isolated, only accompanied by the stability of his clever mind and the Butler siblings, sworn to protect the Fowl family, a dynamic that has withstood several centuries of Fowls and Butlers. Artemis has taken his role of Head of House to heart and seeks to redeem the fortune his father lost, before his supposed death (I have a feeling we'll see him in other books). His research of restoring wealth led him, in a roundabout way, to fairy gold. And this is the plot. Artemis Fowl attempts to steal from the fairies to reclaim his family's billionaire status. He's a child criminal with a highly efficient and smart brain.
Butler and his sister, Juliet, protect Artemis Fowl at all costs (even their own lives). The loyalty the Butler siblings embodied for Artemis but especially, and also, for one another really drew me. I can relate to a strong sibling bond, and those tropes are just about my favorite ones to read.
Artemis Fowl is the first book in a series of eight. I'm curious about our misbehaved protagonist, who diabolically strategizes kidnappings and thievery, and I'm even more curious if his behavior matures and grows kinder as he grows older. Or if in fact, young Artemis grows up to be a Moriarty of sorts.
Crossing my fingers for kind and brave.
It's quite possible I misjudged this 12-year-old boy. I think it is worth the read to find out. The adventure is fun; the narrative is engaging; and the collection of characters is well-developed and balanced.
---
Our Stars for Buttons Book Club readers gave this story 4 brilliant stars. And our favorite character award goes to MULCH. We hope to see him again in future books.
If you're curious about our book club, you can check it out here 😁 We'd love to have ya!
Wishing you a magical week,
~JH
---
Thank you so much for reading. I hope you pick up this adventure story, that by the way, Disney has sense turned into a film. If this book sounds like your kind of book, you may also like this other review of Enola Holmes, not entirely an anti-hero, but Sherlock related.